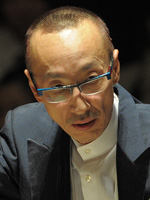 Bob Sakuma
(May 5, 1949-) is a music composer of theater and television. One of his notable contributions to anime was to the soundtrack of the TV series Science Ninja Team Gatchaman and its adaptation, Battle of the Planets.
He is currently the conductor and music director of the Nagoya Philharmony Pops Orchestra and tours overseas.
External links
Ad blocker interference detected!
Wikia is a free-to-use site that makes money from advertising. We have a modified experience for viewers using ad blockers

Wikia is not accessible if you've made further modifications. Remove the custom ad blocker rule(s) and the page will load as expected.