The project celebrates 
Tatsunoko Productions
' 55th anniversary in October 2017.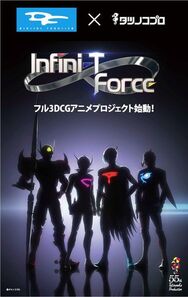 this Anime will feature main four superheroes from tatsunoko production, such as Gatchaman (G-1),Casshan,Hurricane polymar and Uchuu no Kishi Tekkaman.
This anime will Directed by Kiyotaka Suzuki ( Psycho-pass 2) at Digital Frontier (The Boy and The Beast, Wolf Children), and Toshiya Ono ( Gatchaman Crowds) is supervising the anime's scripts.Keiichi Satou (The Big O, Ninja Resurrection) is in charge of the original hero design concepts, and Koji Nakakita (Gatchaman Crowds, Jūsō Kikō Dancouga Nova) is in charge of suit and mechanical designs.
The characters and cast members are as follows:
Tomokazu seki as Gatchaman ( G-1/Ken washio)
Soma Saito as casshan ( Azuma Tetsuya)
  Kenichi suzumura as Hurricane polymar ( Yoroi takeshi)
                                 Takahiro Sakurai as Tekkaman the space knight ( Minami joji)
Infini-T force anime will have a different story from the earlier manga [ Infini-T force: ~ Mirai no Byousen~] by ukyou kodachi ( Naruto,boruto) and Tatsuma Ejiri (P2-Let's Play Pingpong).
The story of the original manga begins when a girl named Emi uses a pencil that can grant any wish. Emi gets caught up in the robbery of a convenience store, and her life is in danger. She uses the pencil to wish for a "hero that will save everyone." Four heroes appear in response to Emi's wish to change the course of the future.
The main character in this anime could be Ken since he's the leader of the team from the manga.
the other supporting characters such as Friender from Casshan, Baron from Hurricane polymar and Pegas from Tekkaman most likely to appear in the Anime since they have small appereance in manga and concept art. but there's no sign about the other sience ninja team or God pheonix to appear in this Anime. but there's a chance to show up as a supporting charhacters.
The anime will begin airing this October on NTV and other channels.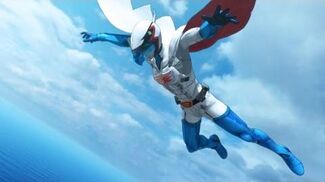 Ad blocker interference detected!
Wikia is a free-to-use site that makes money from advertising. We have a modified experience for viewers using ad blockers

Wikia is not accessible if you've made further modifications. Remove the custom ad blocker rule(s) and the page will load as expected.